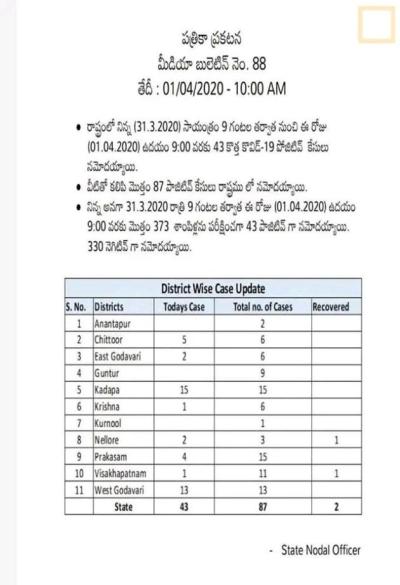 In a quick turn of events, 43 fresh positive cases were reported in Andhra Pradesh with which the toll takes a massive hop to 87 in the state at once. What is quite shocking is that the fresh cases were registered in the last 24 hours.

Going into details, the medical officers in the state have sent 373 samples for medical examinations and out of them, 43 samples have turned out to be positive ringing the danger bells.

Looking at the district-wise positive cases Prakasham and Kadapa districts top the list with 15 positive cases each followed by 13 cases in East Godavari. A tense situation arose in the state after knowing that most of the positive patients have visited the Nizamuddin area in Delhi to attend a religious ceremony.  

All the 43 positive patients have been shifted to the isolation wards for medication purposes. The family members of these people were also been monitored by the concerned officers.

On the other hand, the positive cases in Telangana have reached 97 as 15 Fresh cases were registered who participated in the Markaz meeting in Delhi. Six deaths were reported in the state while 14 members have been discharged.

Positive cases in India are also increasing day by day b surpassing the 1,000 mark. The count of the positive cases has reached 1397 in the country and out of them, 124 have recovered recording 35 deaths in the nation.