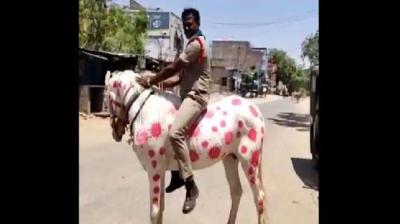 Despite the government spreading awareness about the dreaded COVID-19 outbreak, people are not taking the virus seriously. Still, people are coming on to the roads without proper reason.
Following this, a cop in Andhra Pradesh has come up with a novel way to create awareness about the global pandemic against which the world is fighting hard.
Sub-Inspector Maruti Sankar was seen riding a horse in Pyapili town of Kurnool district, that had red circles dotted with lines, resembling the structure of the highly contagious virus which has plunged the world into crisis.
"The public at large is not treating the COVID-19 situation seriously, whereas, the police personnel is working round the clock to ensure people stay at home and do not venture out so that further spread of the disease can be stopped," the cop said.