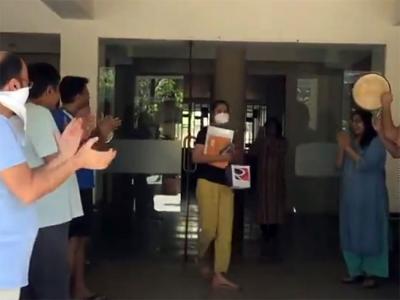 The positive cases of the novel coronavirus are increasing day by day and the people who have recovered from the deadly virus are very low in number is an issue that disturbs everyone.
A video has come out that went viral on social video where the first Covid-19 recovered patient from Gujarat can be seen entering her apartment and her neighbors were clapping for her by wearing medical masks.
This is a token of appreciation by her fellow flatmates who showed her that she is strong as she has successfully recovered from the fatal virus. Many netizens have even commented for the video praising her by being confident and positive for the treatment.
The 21-year-old girl who has returned to India recently from London was shifted to a special isolation ward as the medical examinations of her at the Institute of Virology, Pune declared her positive.
The girl took to social media to confirm that she was tested negative for the deadly virus as her latest medical examinations confirmed the same. The good thing is that those who came in contact with her tested negative.