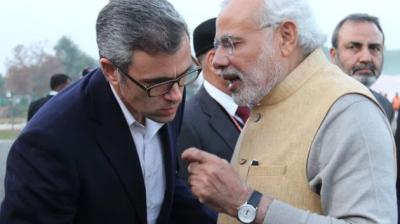 When politicians make statements, they have deeper meaning. They could even indicate the future alliances and understandings. When Former JK Chief Minister and National Conference leader Omar Abdullah tweeted in support of the Central Government's Lockdown, PM Modi instantly reacted and thanked Omar. Many political watchers feel this is not mere twitter courtesy, but a foreteller of a possible coming together of the two parties in the state.
Omar's uncle Dr Mohammad Ali Matto passed away on Sunday night and the funeral was held on Monday. But, Omar Abdullah asked the people to respect the Lockdown and not attend the funeral.  He tweeted: "My uncle Dr Mohd Ali Mattoo passed away earlier tonight after a brief illness. At this difficult time the family appeals to everyone to respect the guidelines to not gather either at his residence or the graveyard. Your prayers from your homes will give peace to his soul." Soon, Prime Minister Modi responded by tweeting: "Condolences to you and the entire family, @OmarAbdullah. May his soul rest in peace.  In this hour of grief, your call to avoid any large gathering is appreciable and will strengthen India's fight against COVID-19.
Earlier too, Omar has given enough indications of softening up. He has also made conciliatory gestures to show that he is averse to fighting with the Central Government, especially Modi. Does this mean it is a new beginning in Jammu and Kashmir?