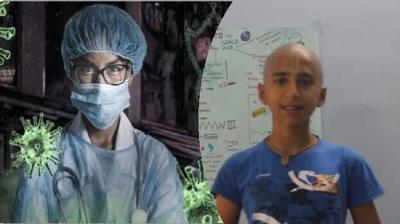 Remember Octopus Paul which predicted the outcome of the World Cup football in 2008 and 2009. Most of its predictions have come true and it's foretelling of the victos was as accurate as it could have been. Now, here is an young boy, who predicted Corona and the catastrophic effect it would have on the humanity.
Eight-year-old Abhigya had on August 22 last year taken to the YouTube and said that there would be a massive catastrophe from November 2019 till April 2020 as there is a conjuction of the Moon and Raju and another conjunction between Mars, Saturn and Jupiter.  While many expected some kind of war, none expected it to be in the form of a viral scare. On March 26, Abhigya has again taken to the YouTube to say that the period from March 29 to April 2 is the worst period as the virus would spread like wildfire and will gain great speed due to the Moon and Rahu conjuction.. His advice to the people at large is not to step out of the homes. He also predicted that Odisha, Bengal, Andhra and India's North West would be worst hit.  He has another prediction!! Unlike predicted earlier, the virus would not end by April, but will continue to affect all through May.
The video posted on March 26 has already got over 19 lakh views and counting.