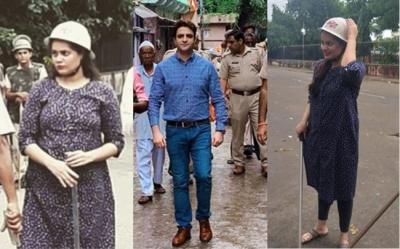 Tina Dhabi, the 2016 IAS topper, is back in the news. This IAS topper has created quite a sensation when she married Ather Ameer, an civil services officer from Jammu Kashmir, two years ago. Tina, a Hindu, marrying Ather, a Muslim, became a big news and liberal seculars hailed this marriage to no end. Even Tina posted the pics of her cozying up to her beau on the Facebook and thus crossed the rubicon that many civil servants fear to cross. She even changed her name in the FB profile from Tina Dhabi to Tina Dhabi Khan.
Now, it's all over between Ather and Tina. Both have parted ways. The biggest give away is the change in her FB status. The Khan is no longer there in her name. She is back to being just Tina Dhabi. Also gone is the adjective "Kashmir ki Bahu' from her profile. What more? They have unfollowed each other on Twitter and on Instagram.
What is interesting is that soon after removing Khan from her name, Lord Hanuman's image appeared on Tina's FB page and some prayers posted for a better effect. Tina, known to be irreligious, has turned to God.