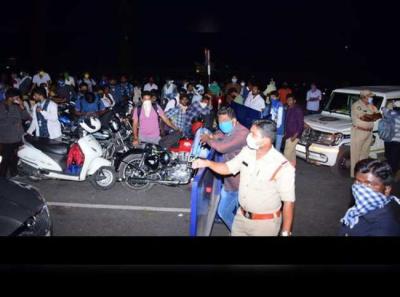 Following the widespread of the deadly virus in India, Centre has announced lockdown throughout the country till the 31st of March. This forced the AP students to leave Telangana and reach their native places.
A tense situation arose at Andhra-Telanagan border with first the AP police not allowing the students to enter the students, even though TS police gave a NOC certificate for them.
A lot of vehicles were assembled at the border resulting in a huge traffic jam. AP CM Jagan had a word with KCR on this situation and decided to allow the students into the state. No students will be allowed the state hereafter.
A health protocol came into action in AP as part of which, people hailing from Guntur and Krishna districts were sent to Nujeevedu IIIT and the East Godavari people were sent to Rajahmundry for quarantine.
Quite surprisingly, some students agreed to go for quarantine while some others didn't agree to go there. As a result, some of the students returned back to Telangana as there were in the opinion that it's better to stay back in Hyderabad rather than going to quarantine.
KTR has directed the hostel owners in the state to not close the hostels as the students were left with no option other than staying in Hyderabad.