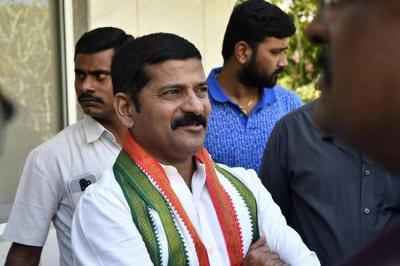 Telangana Congress MP, Revanth Reddy who represents the Malkajgiri constituency has moved the High Court to seek additional security. He filed a petition before the court and claimed that he has a life threat and requested the Court to double his security.
The MP asked the court to double his security from 2+2 security to 4+4 security cover given by the central security forces stating that he is facing a death threat from the TRS leaders.
In his writ petition, Revanth Reddy said that he has a personal enmity with Telangana CM, TRS supremo KCR as he had filed many PILs on the debatable issues in the state like the demolition of the state secretariat, Gulabi cooli and the illegal land allotments to industrialist Jupalli Rameswar Rao.  
He went on to say that the state government had a grudge on him and CM KCR has warned in the state assembly back when he was with the TDP as an MLA and alleged that they might even carry out an operation like the infamous "blue star".
He even said that after becoming the MP in 2019, he has written a letter to Union Home Minister for protection from any independent agency besides the State agency as he has a threat from KCR and other TRS leaders. Reportedly Amit Shah has written back to Mr. Reddy on August 28, 2019, that his request was under consideration.