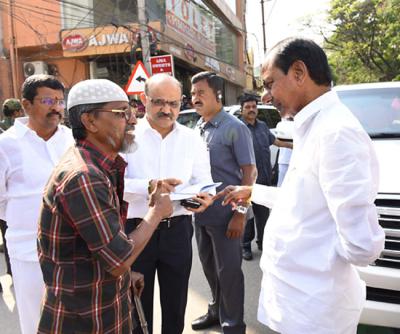 Telangana Chief Minister K Chandrasekhar Rao stopped his convoy and came to rescue of an old-disabled person who was on his way returning from a private programme in Toli Chowki of Hyderabad.
When KCR found an old person holding a memorandum standing on the road, he asked the officials to stop his convoy and met with the person.
Upon speaking the person introduced himself as Mohammed Salim and said that he was a driver in the past and suffered from many ailments.
He went on to say that after falling down from a building he lost his leg four years ago. He added that his son also faces some health issues and he doesn't have own house too.
Following this KCR has directed the officials to sanction a disability pension and a two-bedroom house for the disabled man.