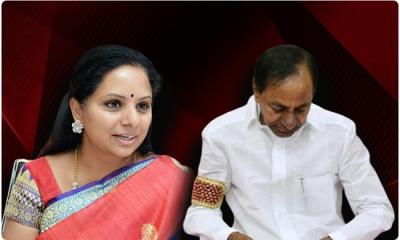 Following the announcement of the biennial elections schedule to the Rajya Sabha new news floated that Telangana CM KCR has decided to give his daughter former MP Kavitha Rajya Sabha ticket.
With the term of Garikapati Mohan Rao and KVP Ramachandra Rao who represents Telanagana coming to end the schedule was announced making way for the new leaders. March 13th is the last day to submit the nominations.
Looking at the representation of the MLAs of the opposition parties they don't stand a chance for a single seat too. Both Telangana and Andhra Pradesh will see only the ruling party having a chance.
Three Congress MPs Dr. K.V.P. Ramachandra Rao, T. Subbarami Reddy, and M.A. Khan and Dr. K. Kesava Rao(TRS), Garikapati Mohan Rao(BJP) and the Thota Seetharama Lakshmi(TDP) will retire on April 9.
It has been widely reported out of two berths for the Rajya Sabha, Kavitha was confirmed as one member and the other leader might be Mr. Vinod Kumar who happened to be a relative of CM KCR.
According to some media reports, Dr. Kesava Rao is also hoping to retrain his seat making it difficult for KCR to pick up the candidates for the polls.