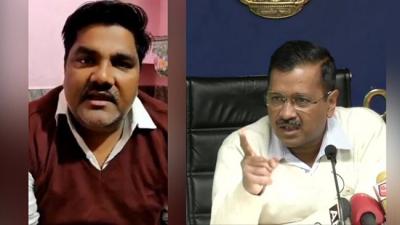 In a major comedown, the Aam Admi Party, which is known for its moralistic postures, had to suspend its highly communal and controversial corporator Tahir Hussain for his involvement in the Delhi communal riots.
Though Tahir Hussain was caught on camera directing rioters from the terrace of his building and sacks full of stones, acid sachets and Molotov Cocktails (Petrol Bombs) were found in his house, the AAP staunchly backed him and tried to deflect criticism against him. However, Tahir Hussain had little defence when videos showed him directing the mobs and encouraging them to attack Hindus and the police. Also, the kin of IB sleuth Ankur Sharma, who was brutally killed with eyes gouged out and thrown into a drain, have squarely blamed him for the murder. Tahir's defence too looked too untenable. Realising that Tahir Hussain was proving to be a liability, Arvind Kejriwal suspended him late on Thursday night.
Tahir is considered very close to Kejriwal and has been seen by latter's side on several occasions. His role in inciting communal riots is now out in the open. This has proved to be a major embarrassment to Arvind Kejriwal. So, in a late night decision, the AAP has suspended Tahir Hussain from the party.