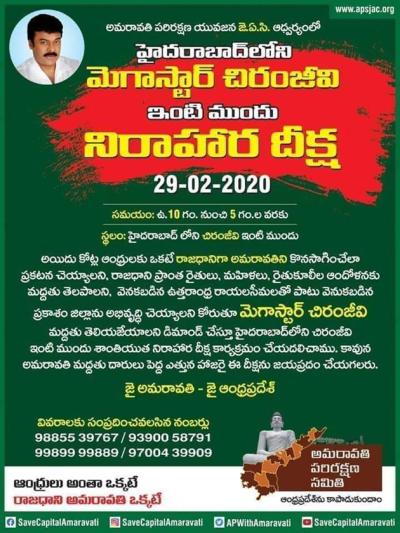 The farmers of the Amaravati region who have been staging protests strongly opposing the government's rule to have 'Three Capitals' have decided to intensify the protests.
The Amaravati JAC which has earlier lashed out at the Telugu heroes for not raising their voice supporting the farmers has now announced that they will stage a protest in front of Chiranjeevi's residence on 29th this month.
The JAC has even released a poster to state the same news. According to their announcement, they will protest on the 29th of this month morning from 10 a.m to evening 5.
The JAC also urged the farmers, women and the workers to participate in this protest and make this a huge success. They also requested Megastar Chiranjeevi to support their agitation.