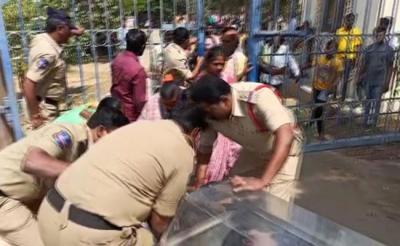 Narayana College once again hit the headlines but for the wrong reason this time. Sandhya Rani who is a student of the Narayana college of Velimala branch committed suicide leading to a tense situation in the area.
Going into detail, Sandhya Rani who is studying Intermediate First Year committed suicide by hanging in the bathroom in the lunch break. It has been reported that she took this extreme step unable to bear the harassment from the college.
Many student unions staged a protest against the management of the college. The college management rushed her to a nearby private hospital in Nalgonda immediately after knowing the incident.
A tense situation erupted when parents of Sandhya Rani and student unions tried to shift her dead body from the mortuary. Reportedly police manhandled Sandhya Rani's father leading to widespread criticism.