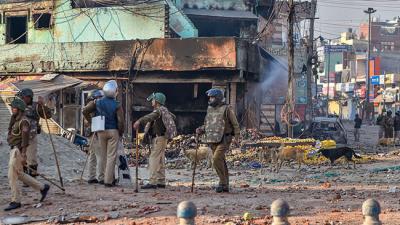 The Supreme Court which was not happy with the way Delhi police handled the ongoing violent riots has slammed the police for their role.
Justice K.M Josep said, "Regarding police inaction, I want to say certain things. If I don't, I won't be discharging my duty. I have my loyalty towards this institution, towards this country…"
The bench of Justices Joseph and Sanjay Kishan Kaul heard a petition filed on the Shaheen Bagh protest, which witnessed a flood of petitions seeking to direct the police to file FIRs on the ongoing riots.  
However, the judges said that the riots were "unfortunate".
"The problem is lack of independence and professionalism in police. If this had been done before, this situation would not have risen," Justice Joseph said.
"Look at how police acts in the UK. If somebody makes an inflammatory remarks, they swing into action. They don't wait for orders. Police should not be looking for here and there for nods," the bench said.
"I think it's time all stakeholders in Delhi started lowering their temperatures, their blood pressures. This is not the way society should behave," Justice Kaul maintained..
As per the records so far at least 20 people have lost their lives. The court adjourned the Shaheen Bagh hearing till March 23 and added that it would not expand the ambit of the case before it.