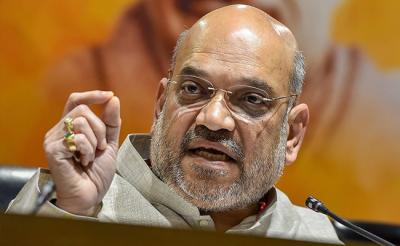 In the wake of violence and unrest in the northeastern part of Delhi, the Union Home Minister Amit Shah held his third meeting in just 24 hours. Indian Police Service(IPS) officer SN Srivastava who was appointed as the special police commissioner also attended this meeting
In his earlier meeting with Delhi's Lieutenant Governor Anil Baijal, Chief Minister Arvind Kejriwal, Commissioner of Police Amulya Patnaik, Congress leader Subhash Chopra, BJP's Manoj Tiwari, and Ranvir Bidhuri Amit Shah discussed the law and order situation after the violence.
Reportedly National Security Advisor Ajit Doval too visited DCP's office to take a review of the situation.
As armed mobs rampaged through the parts of northeast Delhi around 150 people were injured and 13 people have been killed. The Police are also dealing with the fake news that is spreading on the social media platform.
Delhi Police took to Twitter to confirm the fake news being spread and said dod not believe all those news.
"Delhi Police is making all earnest efforts, including deployment of reinforcement and involving respectable citizens of the area, to restore the normalcy," read the Tweet.
"Delhi Police has kept strict vigil on such mischievous elements and miscreants. Strict legal action will be taken against those who are found involved in these incidents. It is also urged that social media platforms should be used with responsibility. Public cooperation is solicited in maintaining peace," it added.