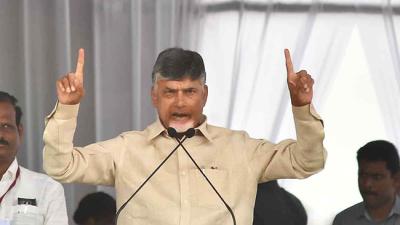 The much-touted Kuppam tour is turning out to be a reality check for TDP boss Chandrababu Naidu. During his Kuppam tour, he conducted a road show where he asked the general public to speak up and tell about the "excesses" of Jagan government. A party worker volunteered to speak about the corruption.
Chandrababu Naidu gave him the mike and asked him to speak. The party worker had said that he had to pay Rs 1 lakh bribe to enter the details of his landed assets online. Chandrababu got excited and told the public that this is the level of corruption in the Jagan regime. Then he imperiously asked the party workers as to when did he give the bribe. To this, the party worker said that he had given the bribe while Chandrababu Naidu was in power. This left Chandrababu red-faced and he began looking sideways. The embarrassment was more because the person who took the bribe stood right beside Chandrababu in the road show.
What happened next? The party workers and Chandrababu acolytes immediately snatched the mike away and pushed him down saying he was a YSRCP moll.  Chandrababu undertook the road show in his home town after a long time.