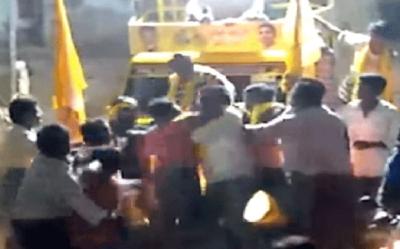 If Chandrababu's recent roadshow in Kuppam is any indication, it is clear that he is losing touch with his constituency. The attendance was sparse and the enthusiasm was even less. To create the right kind of optics, Chandrababu chose Shantipuram for his public address in the night. At about 8 PM, he started his harangue and it went on for a good one hour. As a result of this road meeting, the traffic was stalled on both sides of the road leading to great inconvenience to the general public and the commuters.
Some commuters picked up an argument with the TDP workers and objected to the stoppage of the traffic. At this the TDP workers went berserk and began attacking those who objected to the rally right in the middle of the road. The reporter of a popular Telugu daily tried to shoot the attack. At this, the TDP elements turned to him and thrashed him mercilessly.  The police stepped in and rescued the media person.
TDP chief addressed a party workers meeting, conducted a road show and later addressed a press conference. Chandrababu looked unusually belligerent and hurled invectives at his political rivals, including YS Jagan. This one-day tour did not evoke much enthusiasm among the people of Kuppam.