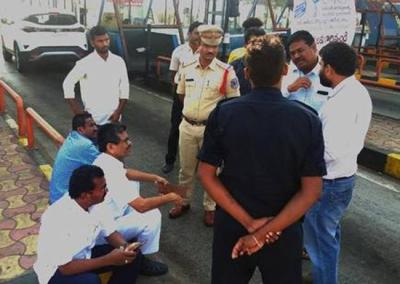 This MLC has the shocking experience at the tollgate. The toll plaza staff refused to believe him to be an MLC as he did not have any gunman protecting him. So, they did not allow his vehicle to pass through. Even after the MLC flashed his MLC ID card, they did not let him go. So shocked and angry the MLA was that he staged a sit-in at the toll plaza itself.
The MLC in question, Alugubilli Narsi Reddy is a teachers' constituency MLC who is elected on the basis of teachers' votes. Simple and unassuming, Reddy has surrendered his security personnel saying he does not need them. His car too does not have a sticker indicating that he is an MLC. So, when he came to the Pantangi Toll Plaza near near Choutuppal, the staff stopped him. When he told them that he was an MLC, the staff asked him where were his gunmen. When he said that he does not have any gunmen as he surrendered them, the staff refused to believe him and asked him to pay the toll.  
Finding that the staff at the toll plaza were unrelenting, the MLC staged a sit-in at the toll plaza. He said this was happening to him every time he passed through the toll plaza. Later, the toll plaza staff realised that he was indeed an MLA and allowed him to pass through without paying the toll fee.