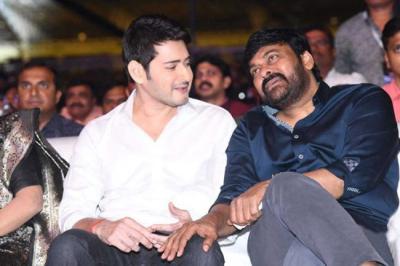 Chiranjeevi is an icon in Telugu Cinema and he has been an inspiration to his competitors and even to the new generation actors. He proved that his market is on a different level with his two movies after his comeback to films from political break!
Now, the actor might appear in a multi-starrer of sorts with current reigning Superstar of Telugu Cinema, Mahesh Babu. We broke the news that Koratala Siva and Mahesh are in talks about his inclusion in #Chiru152 last week.
The latest update is that Mahesh is keen to take up the offer and he heard the narration from Koratala Siva too.
He is not sure about the story narrated by Vamshi Paidipally for his next and he is thinking about other options, while he asked Vamshi to prepare another script.
In the meanwhile, Ram Charan offered him his regular remuneration for 25 minutes cameo and as the character looks powerful enough, he is thinking about it in a positive way, it seems.
Which means that he is thinking about the dates, character impact on story and how will director convince audiences that it is not just a gimmick. So, even though it is not confirmed that Mahesh will definitely come on board, there is a chance that he will join the shoot from March end.
As it will be Mahesh coming on board and mass wants some scenes with Chiranjeevi, his character has been developed differently from what Ram Charan would have played, it seems.
For budget equations, Ram Charan and Matinee Entertainments, producers of the film are ready to go for 50 crores more budget, with the inclusion of Mahesh and they have done their calculations on how to recover it also, it seems.
With Mahesh and Chiranjeevi coming together, they can easily take Non-Theatrical revenue to above 130 crores and from theatricals also the amounts will be shocking high.
Hence, they are keen to go this route as Ram Charan is locked with RRR and his inclusion means postponing the film release to a later date. Chiranjeevi has given his blessing to the team to decide on it, on their own, it seems.