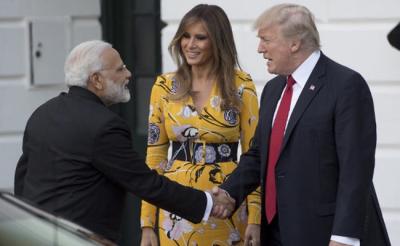 The Indian Government which has planned to host an event to mark the visit of US President Donald Trump's visit similar to the Howdy Mody has made all the plans for the 'Namaste Trump' event which will be held at the Motera cricket stadium.
As part of the celebrations, Bollywood singer Kailash Kher will sing the Jai- Jai Kara song which is the Hindi version of the Dandslayya song from the magnum opus Bahubali.
"The performance to start with the song 'Jai-Jai-Kara, Swami saath dena humara' and end with 'Bam Bam Lahiri', if I have my way I would make him(Trump) also dance on this song," Kailash said.
It has been widely reported that Kailash will sig the song with around one lakh and twenty-five thousand other singers.
Ahead of his visit to India, Donald Trump shared a video where he can be seen as Bahubali and rides a chariot with the First Lady Melania. In the same video, Trump is seen riding a horse carrying his son Donald Junior and daughter Ivanka Trump.
 Prime Minister Narendra Modi took to Twitter to welcome Mr. Trump. "India looks forward to welcoming @POTUS @realDonaldTrump.
It is an honour that he will be with us tomorrow, starting with the historic programme in Ahmedabad!," read his Tweet.