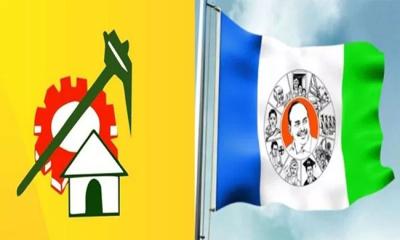 A new aggressive strategy is fast emerging in the political arena. The new strategy puts women in the forefront of any agitation. Also, if some politician is to be attacked, it would be done by an aggressive and menacing woman activist. Both police and the politician cannot hit back and attack the woman. They can neither take the attack by a woman as it hits their macho image. So, they end up losing both ways. It's a double whammy for them.
The latest victim of this new strategy is Bapatla's YSRCP MP Nandigam Suresh The other day, he was stopped by a horde of TDP activists. The TDP leaders made their woman members to attack the MP, whose car they stopped. The women abused and bad-mouthed the MP and some women activists even slapped the MP's PA's brother with slippers. Not just that. They even sprinkled chilli powder into the eyes of the gunmen and the supporters of the MP as the latter tried to save the MP. This is the second attack on the MP in recent times. The attack appeared to have been clearly planned. The protesters were tipped off by the TDP leaders from another village. The TDP activists in Lemalle village blocked the road by placing a bus in the middle of the road. They had things like chilli powder ready. Some even pelted stones on the YSRCP activists.
It was clear that the protesters wanted to benefit both the ways. If they succeed in attacking the MP, it would make news. If the cops attack them, that would make a better and bigger news. The pro-TDP media would make it such a huge issue that the YSRCP would be bogged down fighting misinformation. Let's wait and watch how the YSRCP handles this.