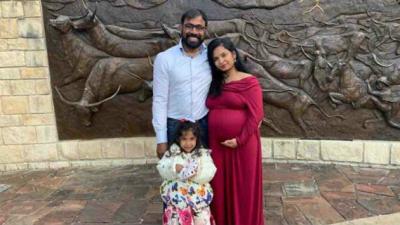 Telangana Minister of MA&UD, Industries, and IT&C has done it yet again. KTr is widely known for helping people if they are in any need through social media. The Minister has helped many people still now who are in need.
A Gajwel youth who lives in Dallas, United States had died due to a heart stroke. This sad incident happened just one day before the delivery date of her wife of their second child.
Following this, a youngster has Tweeted to KTR that a Gajwel person Prashant had died in Dallas due to heart attack and help the brother of Prashant to get his visa and the visa process will get delay due to continues holidays.
"@KTRTRS Sir, This is NC Santosh from Gajwel, my friend Prashanth k has expired in Dallas@US few hours back due to heart stroke. His wife is expecting a baby tommorow. My friend's brother us at US embassy in begumpet trying for Visa need your intervention to expedite the process," read Santosh's Tweet.
To this, the Minister responded quickly and requested the US Consulate General and the US Ambassador to India Ken Juster to look at this and speed up the process as this was a family emergency.