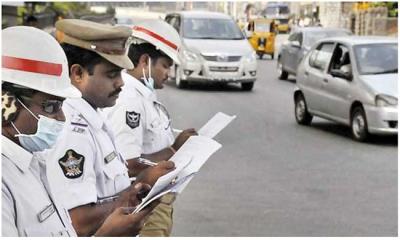 While the Telangana government has left the people of the state by saying no to the new Motor Vehicle(MV) act which enables the traffic police to impose huge fines for violating traffic rules, the motorists are still continuing to break the rules.
The interesting fact is that not only the common people even the Ministers in Telanagana were also violating the traffic rules and huge channels were also fined on their vehicles.
Looking at the challans, Minister Jagadish Reddy tops the list with Rs 9,315 fine with 9 challans followed by Etela Rajaneder and Koppula Eashwar with Rs 6,210 and Rs 5,175 respectively.
Challans were also fined on vehicles of Sabitha Indra Reddy, Gangula Kamalakar, Puvvada Ajay. The question is whether the police can severe action against the leaders like how they deal with the general public.
Hyderabad traffic police have earlier made it clear that if more than 10 challans were filed they will file a charge sheet and the person will be produced in front of the court. Let's see if they can follow the same rules with the leaders or not.