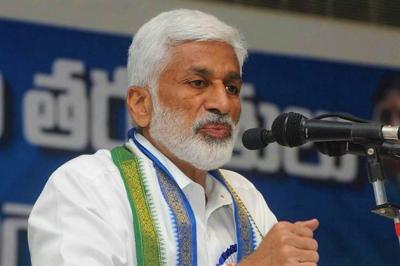 YSRCP Rajya Sabha member Vijayasai Reddy who is often referred to as firebrand has once again come down severely on TDP supremo Chandrababu Naidu and his son Nara Lokesh.
Vijayasai Reddy took a dig at details given by Nara Lokesh on the asset details belonging to the Nara family.
"My father's total assets are Rs 3.87 crore while the debts Rs 5.13 crore. My mother Nara Bhuvaneswari assets have reduced from Rs 53 crore to Rs 50 crore. The assets on my name are valued at Rs 24 crore and Brahmani's name there are Rs 15.68 crore," said Lokesh about the asset details.
Following this Vijayasai Reddy took to Twitter to mock the Nara family. In a series of tweets, he has lashed out at the Nara family.
Father has announced his assets as one lakh crores in front of thousands of people. Small Naidu has fooled every one in the name of asset details. Within no time details will be out on how much they earned in 5 years. Till then save these papers dear.
"The basic fact is that both @ncbn and his son are the biggest liability to the state of AP and the country. The assets declared today is a routine drama since their undeclared, benami, siphoned and secret bank accounts are never declared and investigated," his tweet read.