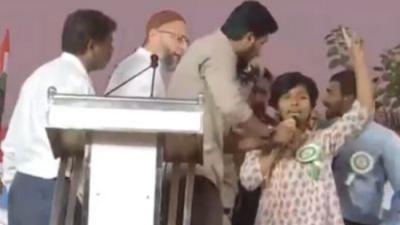 A "Save Constitution" rally attended by MIM MP Asaduddin Owaisi turned ugly when "Pakistan Zindabad" slogans were chanted and found resonance among the crowd present. A woman, who came on to the stage as Asaduddin Owaisi entered, shouted pro-Pakistan slogans and wanted the crowd to join her.  Realising that this could get him into trouble, Owaisi unsuccessfully tried to snatch the mike away from her.
The woman was identified as Amulya Leona. The organisers finally managed to snatch the mike from her. She was later arrested and a case of sedition was filed against her.  A shocked Owaisi tried to save himself by saying that neither he nor his party have anything to do with Amulya Leona. He said he was an Indian and that there was no question of supporting Pakistan. He tried to dissociate himself from the incident. Even the Congress Party has strongly criticised the pro-Pakistan slogans.
Reacting to the incident, the BJP said the incident has exposed the tacit links between the anti-CAA forces and Pakistan. It said there was a 'joint venture' among these anti-national forces.