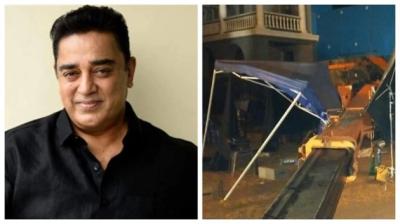 Kamal Haasan has been working in the Industry for more than 6 decades and he saw many accidents and even faced some too.
But Indian 2 incident has made many people think twice about the safety measures at the shooting places. We never when a faulty equipment can end up damaging lives and therefore leaving a lasting impact on their families too.
As he saw numerous families struggle to find their feet after such freakish accidents when you least expect them, he came forward to give Rs. one crore financial aid to the families of the 3 technicians who died on spot.
ANI reported him saying,
"Kamal Haasan: Yesterday's accident was unfortunate and we lost our 3 friends. I will give financial assistance of Rs 1 crore each to kin of those who lost their lives as they belong to poor families. We must take preventive steps to avoid such accidents in future."
For those who are wondering what happened, on Indian-2 sets, a 150 metre crane fell on a canopy that has monitor set up for director Shankar and his team to over look the shoot.
Kamal, Kajal and Shankar escaped narrow death but 3 were killed and 10 got injured due to the accident at EVP Film City in Chennai.