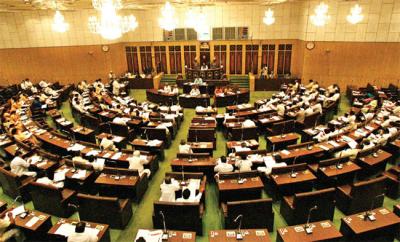 AP CM Jagan Mohan Reddy who is fed up with the Opposition's efforts to create obstacles in every bill introduced in the State Assembly has decided to abolish the Legislative Council.
Jagan is not the first CM to do so. In the past, former CM, TDP founder Late. NT Rama Rao has also abolished the upper house in the year 1985 when he was in power. Interestingly, when Jagan's father Ex-CM of combined AP came into power he revived the upper house.
As there is much fuss about the upper house, we will once go back into the history of the Legislative Council.
The much talked about Legislative Council was formed on July 1st, 1985 and marks 62 years in a few months. The upper house functioned without any obstacles from then till 1983 when NTR came into power crushing the Congress party which was the only party in the state.
Quite similar to what the TDP is doing now, the Congress leaders tried there level best to create problems to the then ruling party, forcing the government to abolish the Legislative Council.
When the Congress party came into power the next term tried its level best to revive the upper house and following this the then CM Marri Chennareddy passed the billed to revive the house on January 22, 1990.
Though the State Assembly has passed the bill the revive the house it went to getting delay until Rajasekhar Reddy came into power in the year 2004.
The then government led by Rajasekhar Reddy again passed the bill in the house to revive the Council. With the Congress party having a majority, the bill was also passed in Lok Sabha too and on December 20, 2005, the Rajya Sabha has also approved the bill.