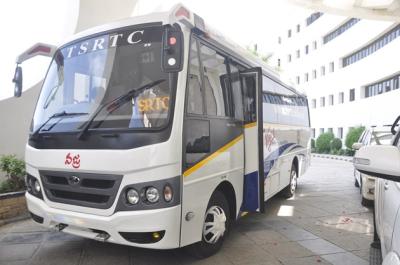 Will Vajra buses of the TSRTC be a thing of past? Yes. The Telangana State Road Transport Corporation has decided to sell of the Vajra buses as they are financially non-viable. There are 66 Vajra buses and only a handful of the services are viable. The RTC management has decided to do away with them as the occupancy ratio is very low. These buses would be sold off to pay bonus to the RTC employees.
The Vajra buses were introduced three years ago to pick up passengers from their homes and take them to their destinations. The buses were introduced in the Old City of Hyderabad. But, the cost benefit analysis has shown that the buses are a huge financial burden on the corporation.  To tide over the financial crisis, the RTC management has decided to sell of the buses in one go. Tenders would be notified soon after the Sankranthi festivities, a source in the Telangana Government said. The RTC has also decided to undertake repairs to the Vajra buses and then sell them so that they can fetch a higher price.
The RTC in Telangana has 97 depots, of which only 11 are making profits and the remaining are running into losses. The government is planning to sell off the Vajra buses and the money so got from the sale would be used to give bonus to the nearly 50000 employees of the corporation.