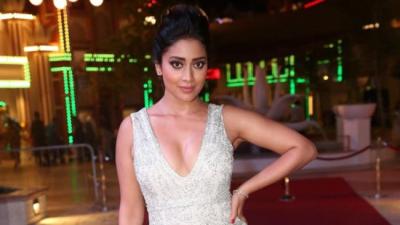 Shriya Saran debuted 20 years ago in Cinemas with Telugu Cinema, Ishtam and she is still continuing her career with one or two films, every year in different languages.
She recently got married and she shared her tour videos with her husband on social media. She is back to work and started shooting for Tamil Film, Sandakara.
The movie shoot is happening in London and it will shift to New York and USA, in coming days. This shocking incident happened in London.
Team were shooting in London Airport and Shriya unknowingly entered restricted zone. London Police cornered her and they were about to shoot her as well.
Looking at the guns pointed at her, Shriya almost freezed to death, it seems. Movie unit reacted in time before Police arrest her and as they showed them all the details, police released Shriya.
To come out of the shock and continue shooting, Shriya took almost two to three hours, it seems. She took it as a different experience and she is back to her chirpy self, it seems.
Vemal is acting as leading man. The movie is a remake of Malayalam film, My Boss which was inspired from Proposal, starring Sandra Bullock and Ryan Reynolds.