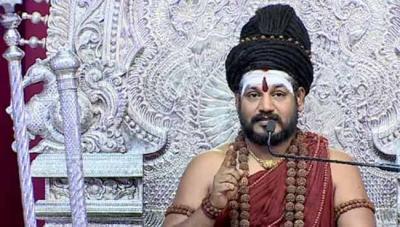 Controversial Guru Nityananda, who founded his own country ' Kailasa' in an unknown island near Ecuador and declared it a Hindu nation, now says that at least 12 lakh people have applied for the citizenship of his now-found country. He announced this through a video uploaded on his Facebook account.
In the video, controversial Swamy said that it was a milestone for his 'cosmic' country. He said: "Till now we have received 12 lakh applications for e-citizenship in Kailaasa. Honestly, I did not expect this kind of reception. It has been overwhelming." Continuing his harangue, the swamy further said: "A few countries have approached me directly to set up Kailaasa in their lands. I do not wish to delve into the particulars but we will be working closely with them to establish Kailaasa." Interestingly, he changed the name of his 'country' from Kailasa to Sri Kailasa.
Nityananda is a controversial Sanyasi who has been caught in a compromising position with one of his film star disciple and faces charges rape and child abuse. He fled India on November 20 after skipping several court hearings.