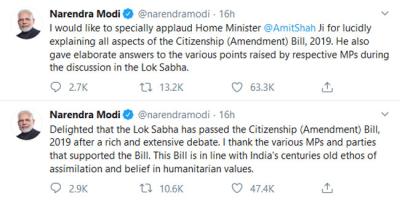 The Lok Sabha has passed the controversial Citizenship Amendment Bill as the bill got 311 votes in its favour and 80 votes were voted against it. With the first step crossed easily, the BJP party will face a major challenge in the Rajya Sabha as the National Democratic Alliance(NDA) is a minority in the house.
Prime Minister Narendra Modi took to Twitter to share his happiness on the bill being passed in Lok Sabha.
"Delighted that the Lok Sabha has passed the Citizenship (Amendment) Bill, 2019 after a rich and extensive debate. I thank the various MPs and parties that supported the Bill. This Bill is in line with India's centuries old ethos of assimilation and belief in humanitarian values," read Modi's Tweet.
"I would like to specially applaud Home Minister @AmitShah Ji for lucidly explaining all aspects of the Citizenship (Amendment) Bill, 2019. He also gave elaborate answers to the various points raised by respective MPs during the discussion in the Lok Sabha," read his second Tweet.