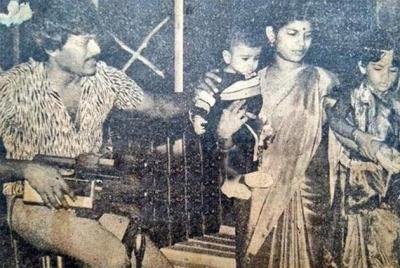 Megastar Chiranjeevi decided to enter films in late 70's, as he was driven to prove himself as an actor. He was inspired by the stardom and journey of ANR, NTR and Krishna kind of star heroes.
After entering the Industry, he found a loving family support from Allu Ramalingayya and his family. Legendary comedian, impressed by Chiranjeevi's attitude and penchant to succeed, married him to his daughter, Surekha.
Chiranjeevi's meteoric rise to stardom is often credited to the support of Surekha and Allu Aravind, son of Allu Ramalingaiah. Chiru has spent most of his life, working non-stop to keep his fans, family happy.
Hence, it is rare to find his photos with family members during 80's. He did take time to go for short trips, attend family functions, but as social media is not this highly accessible at that time, those photos remain rare and inaccessible too.
Whenever one or two come out like this one, fans of the actor go crazy and they tend to go viral as they share with each other. In this picture, Chiranjeevi is handling camera while Surekha is holding Ram Charan and guiding her elder daughter, Sushmitha.
It seems like they are all set for a family event or pooja which Chiranjeevi was eager to capture on film as a memory. Just like many of us, isn't it?!