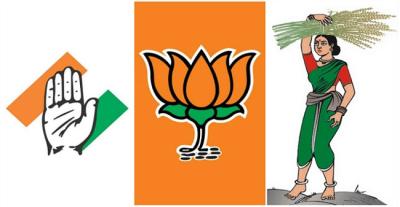 All eyes are now focused on Karnataka election results. What will happen? Will the BJP be able to win at least six MLA seats out of 15 seats that went to polls so that its government survives? This is the most crucial question.  If the BJP fails to win at least 6 seats, then its government would become very precarious and would be in minority. It has to prove its majority on the floor of the house again.
As of now there are 105 MLAs for the BJP and one independent is also extending his support to Yeddiyurappa. The total number of seats is 224, but with the bypolls, the total number of seats would be 222. This means the BJP needs another six seats to retain its majority. The Congress has 66 and the JDS has 34 MLAs.
The exit poll reports say that the BJP might win up to 9 seats out of the 15 seats that went for the bypolls. The Congress is likely to win around five seats and the JDS two. If the results are favourable, then the BJP would be on a stronger wicket. The elections for two more seats were not held. They would be held only after the court cases against them are vacated.