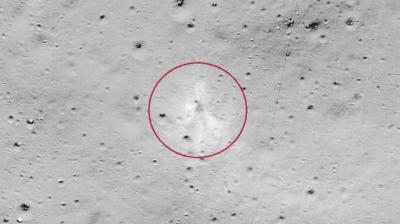 Shanmuga, who hails from Madurai and had earlier worked for Cognizant as a programme analyst, used lunar images from Nasa's Moon's Lunar Reconnaissance Orbiter captured on different dates and studied them for weeks to locate the debris of the lander. He found the first trace at about 750 metres from the Vikram's crash landing site. The NASA had taken the pictures on October 14,15 and November 11.
Later, confirming the news to the world, Nasa tweeted: "The Chandrayaan-2 Vikram lander has been found by our NasaMoon mission, the Lunar Reconnaissance Orbiter. See the first mosaic of the impact site." An image of the Moon with blue and green dots show the impact point of Vikram and an associated debris field.
Vikram lost contact with Isro following its launch from Chandraayan-2 moon orbiter on September 6 when it tried to make a soft landing near the moon's south pole.