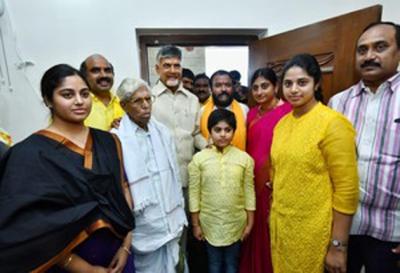 Former CM, TDP Chief Chandrababu Naidu's controversial statements on former MLA Chintamaneni Prabhakar sparkled an outrage.
Naidu said that party leaders should take Chintamaneni Prabhakar as inspiration.
Naidu met Chintamaneni in Duggirala of West Godawari at his residence. While talking to the media, he said YSR Congress is filing fraud cases on party workers and leaders.
Naidu also said that, when Pawan Kalyan is questioning the government on English Medium and sand scarcity, they are making allegations on Pawan's personal life.
Denduluru MLA Kotari Abbayya Chowdary took a dig at Chandrababu's statements, to take Chintamaneni as inspiration. Chowdary reminded that half of the cases on Chintamaneni were filed during the reign of TDP.
He advised Naidu to visit the victims of Chintamaneni to know the situation of them.