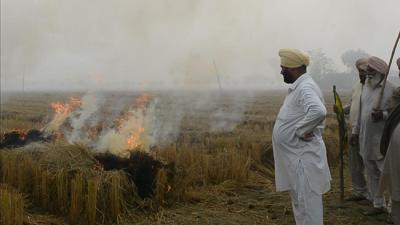 The Air Quality Index (AQI) has reached the all-time highest in the Capital Delhi after Diwali with the bursting of crackers and the burning of stubble in Punjab and Haryana. Reportedly, this year almost 48,000 cases of stubble burning was filed in Punjab alone.
With the air quality, falling down rapidly, the situations have made living in Delhi fatal. The Supreme Court even balmed the Delhi government for not taking precautionary measures.
Schools in Delhi were shut down for two more days, citing air pollution. In this series of events, the farmers of Haryana and Punjab are to be blamed here largely.
The Punjab government has come up with an interesting idea to counter the stubble burning and air pollution. The government has decided to give incentives to the farmers who opt not to go for stubble burning.
Farmers who own a small piece of land will be given two thousand and five hundred for acre if they do not burn the stubble. The amount will be directly credited in the farmers' account. Lets hope, Delhi can breath fresh air with this idea.