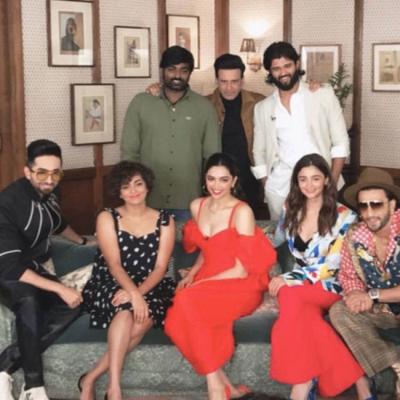 No one absolutely noone wants to bring down a rising star and we all want to see them shine bright. But when there is a trend that we observe to be slightly distracting or unhealthy for an actor, we try to give our say on it. This is not a rant but just an observation.
From past few months, Vijay Devarakonda seems to be trying to get into good books of Bollywood producers, critics and stars.
This is really a good idea for an actor with established stardom. Chiranjeevi after Nagarjuna's Shiva did two films in Hindi that were remakes of hit Telugu films.
He thought to concentrate more on Telugu. Nagarjuna too during his peak period in 90's did go to Hindi Industry more than often but did not leave his Telugu films.
Venkatesh did Anari and Yamaleela remake in Hindi. He too returned to Telugu Cinema. Vijay Devarakonda had a great 2017, 2018 with Arjun Reddy, Geetha Govindam, Mahanati, Taxiwaala becoming hits at box office.
Arjun Reddy and Geetha Govindam have become so massive hits that his popularity as an actor reached to other languages as well. Thanks to Jahnvi Kapoor, Karan Johar noticed him and bought rights of his latest release, Dear Comrade to remake it in Hindi.
But the movie failed and we did not hear about any further progress in the Hindi remake. Since then, we see Vijay constantly in functions or several videos with stars of Bollywood which shows that he is eager to get a Pan India fame.
Director Bharat Kamma expressed some kind of discomfort over trying to live upto the ambition of the actor with Dear Comrade where he planned for release in all South Indian languages.
This strategy cost the producers more and inside reports from Industry suggest that, Mythri Movie Makers, the producers, have gone with the ideas of the actor but not with box office potential before the film release.
Now, it is great to see him being invited and included along with Deepika Padukone, Ranveer Singh, Ayushmann Khurrana, Parvathi, Alia Bhatt, Manoj Bajpayee and Vijay Sethupathi for an actors roundtable about 2019 year but what about his next film?
The title of the movie, World Famous Lover has been announced but there is no official update about release date of the film. Recently, at his first production, Meeku Mathrame Cheptha event, Puri Jagannath in a funny way did ask Vijay to give him dates and concentrate on their film, which at this point is believed to start in January after the actor completes WFL.
Many expect Vijay to bounce back stronger with World Famous Lover and Fighter, alleged title for Puri Film in 2020 but the actor seems to be distracted and more interested in working on his image as popular actor and brand in India.
Branding is good and necessary but not at the cost of career, one feels so!