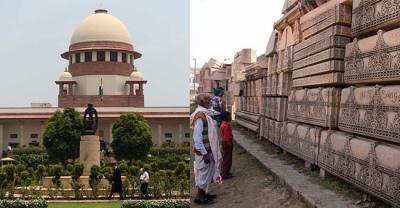 The Constitution bench headed by the Cheif Justice of India, Ranjan Gogoi has delivered the final judgement on the Ram Mandir- Babri Masjid dispute.
In the 1,045 pages long judgement, the Supreme Court has ordered the Central Government to set up a trust in three months to monitor the construction of the Ram Mandir on the disputed site. The Muslim parties will be allotted alternate land in Ayodhya.
Chief Justice Ranjan Gogoi has read out the judgement.
The judgement mentioned the below key points:
"Babri mosque wasn't constructed on a vacant land. An underlying structure did exist," the apex court said.
The 2003 Archaeology Survey of India's (ASI) report can't be dismissed as conjecture or just a guess work
The Supreme Court described the decision of Allahabad High Court to divide the land equally into three parts and allotting to the main parties.
The disputed land of 2.77 acres will be handed over to a trust that to be formes in 3 months to build the Ram Mandir.
Supreme Court ruled out that the entire disputed land belongs to Hindus. Alternate land will be given for the Muslim party.
Under our Constitution all religions are equal. Constitution does not allow judges to distinguish between them: Supreme Court
ASI has not said whether a temple was destroyed to make the mosque. Although the mosque was built on a temple and used its ruins: Supreme Court.
Historical records and travelogue show that the Hindus prayed around the disputed site. But these must be dealt with circumspection. Courts must go by evidence..