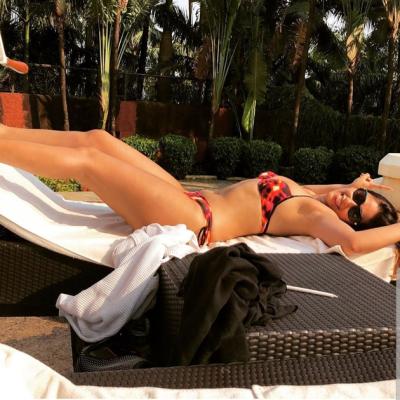 Ileana D'Cruz became one of the most craziest actresses ever when she started her career in Telugu with Devadasu. With slender muscles and non-zero size hour-glass figure and innocent glow of a teenager, she won hearts of Telugu youth back in the day.
Kick, Pokiri took her stock to a bigger height. Somehow, she had to face more failures than successes as Aata, Khatarnak, Munna, Shakthi kind of films used her a glam doll than an actress.
Julayi, Jalsa with Trivikram Srinivas became hits for her and even though her Saleem earned her bad reputation for taking up roles that need her to expose than act, she silenced every critic with her performance in Barfi.
Ever since, she sticked to Bollywood and there she had a mixed bag career with rumours about her affair with a married senior star hero.
She became chubby and indirectly announced that she is looking at marriage with Andrew Kneebone, her then boyfriend. They broke up and she seems to have started working on her body again.
In a red bikini, she looks like a diva much much sexier than Disha Patani. Well, the actress even though crossed 30's, still seems to have a desire to be part of films and this barrage of beauty attacks seem to be aimed at producers, anybody watching?! We have no complaints though.