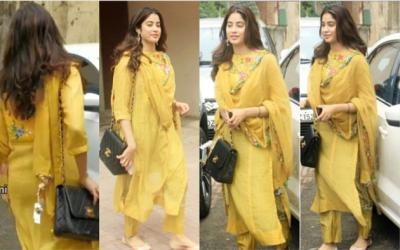 It is quite common in North India for cameramen to follow celebrities wherever they go. Gym looks, airport looks and others have gather significance because of that and every appearance of stars are under public scrutiny.
Recently, Janhvi Kapoor was captured in a yellow churidar and what caught everyone's attention is the price tag that was attached to her dupatta. It was caught on camera when Janhvi was about to get into her car. These pics completely went viral and netizens started to make fun of this.
The comments were filled with jokes on her price tag which includes, "tag ..bhul gyi nikalna,", "Did she or her stylist rob that suit from a shop? It has that sensor wala thing attached to dupatta."
Someone commented "Myntra return will not pick it up if it doesn't have tag... that's y," and Myntra used this as an opportunity to promote themselves and commented, "Flag it, tag it, bag it. Clothes returned without a tag are as good as rag! We don't wanna brag, but if you follow the steps, your return will be without a snag!"
Funny how one mistake from the actress ended up in her becoming a troll material.