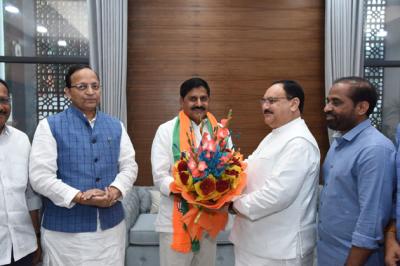 Former Minister Adinarayana Reddy, who has mastered the art of latching on to the ruling parties, has joined the BJP. But, things may not be as easy in BJP for him. Firstly, he has Rajya Sabha MP and TDP-turned BJP leader CM Ramesh breathing down his neck. In fact, Ramesh tried every trick in the trade to stall Reddy's entry into the BJP.
It's not CM Ramesh, but many of his close relatives and camp followers are also not happy with his decision to join the BJP. They feel that this will not help them in any which way. They feel that if one has to survive in Rayalaseema's faction politics, one has to be associated with any of the regional parties and that national parties, especially if it is a party like the BJP, would be of no use. So, a large number of Reddy's followers are cagey about joining the BJP.
Adinarayana Reddy himself feels that the BJP is a 'shelter zone' for him from his political rivals. He feels the TDP is of no use as it is out of power and the YSRCP has closed its doors on him. So, his only hope is the BJP. But, his followers seem to be thinking otherwise. The BJP too is not fully trusting him. This is adding to the problems of Adinarayana Reddy.