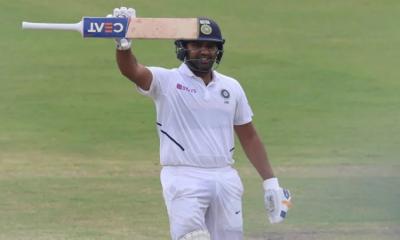 Rohit Sharma consolidated his position as the Opener of Indian Test Team with his marvelous performance in the ongoing series against South Africa. In his first Test Match as Opener, The Hit Man scored a century in each of the two innings. Though he didn't perform well in the second test, Rohit delivered his best in the Third Test happening at Ranchi. He made 212 runs in just 255 balls to ensure the team is in a commanding position. This include 28 fours and 6 sixes.
When the Team was struggling at 39 for 3, Rohit Sharma and Ajinkya Rahane build the 267 partnership to bail out India from trouble. In the process, Rahane managed to score a century after a long gap. Rohit added another feather to his cap by scoring over 500 runs in this series.
Currently, India is in a dominating position by scoring 400 runs in 100 overs at the loss of just 5 wickets. Maintaining a net run rate of 4 in a Test Match is a great effort by Team India. Of course, Rohit and Rahane deserves most of the credit for it.
India is most likely to complete the series 3-0. Kohli might declare after the score reaches anywhere close to 500-mark. It will be difficult for the South Africans to face the Indian Spinners on a turning track, especially from Day 3.