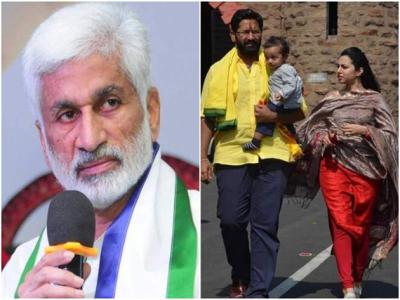 Balakrishna's Son-in-Law Sri Bharat is in news for all the wrong reasons. Andhra Bank issued a notification in Newspaper to auction the assets of Sri Bharat's Power Project at Garividi for not paying loan to the tune of Rs 13 crore. In the notification, Andhra Bank named Sri Bharat, his wife Tejaswini and their power plant VBC Renewable Energy.
YCP MP Vijay Sai Reddy described Sri Bharat as a thief who looted public money while reacting on this development. In response, Sri Bharat claimed that outstanding loan instalments amounts to just Rs 2 crore. He defended himself saying, 'In 2016, VBC Renewable Energy had an agreement with AP Transco to supply power. Ours is a 3 MW solar power project. AP Transco is yet to pay outstanding dues amounting to Rs 3 crore for our power plant. Had if the Transco cleared the dues, We could have repaid the loan in time. Sadly, I am accused of stealing people's money'.
Sri Bharat didn't hesitate to say that many Businessmen in AP aren't able to pay salaries to employees due to the pending bills with the State Government. He adds, 'Its very difficult to run a business in such circumstances. Encourage Young Entrepreneurs'.