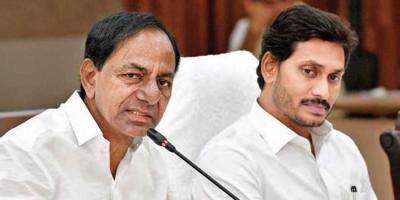 AP CM Jagan Mohan Reddy shares a very good friendship with Telangana CM KCR. Unlike the former CM Chandrababu Naidu, he has a cordial relationship with KCR.
Attending a wedding ceremony is not a new thing for two Telugu state chief ministers. As the leaders of the states, they attend a lot of parties and ceremonies. They both attended many parties and ceremonies together earlier. But this time they couldn't meet each other. Famous industrialist and a relative of Jagan Mohan Reddy and Medak District SP Chandana Deepti got married recently. 
While Jagan attended the party with his wife Bharati, TTD Chairman YV Subbareddy, Ongole MP Magunta Srinivasula Reddy and others attended the ceremony and blessed the couple. Jagan Mohan Reddy had to attend to functions on the same day in Hyderabad so he couldn't spend more time at the Marriage function. He left from the function before KCR showed up. 
On the other hand, Telangana CM KCR who is having a hectic schedule with the meetings about the issues on the RTC strike came lately to the ceremony.