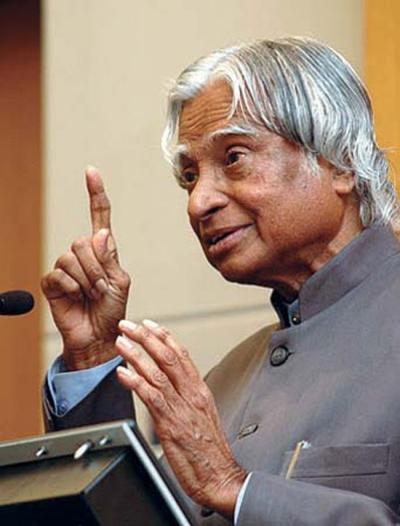 Of all the Indian Presidents, Abdul Kalam is undoubtedly people's president. How can someone forget his charming smile and his hairstyle? Without his great efforts, we cannot imagine the armed forces in Indian. He has brought a sense of purpose to his office which clearly shows his intention. He is nat man of words, he is a man of action. His quote, "When I am dead, do not declare a holiday. Instead, work a day extra" indicated his passion for work and his principle not wasting even a single second.
Mr.Kalam strongly believes that teachers play a pivotal role in the formation of a better tomorrow and eventually opted to educate students through his speeches and books. Except for him, no other politician gave hope to the backbenchers that they can also achieve their dreams. Till his last breath, he motivated students to not lose their hopes.
He was born on October 15, 1931, in Tamil Nadu, who played a significant role in India's civilian space program and military missile development efforts which earned him the title 'Indias Missile Man'.
Before serving the nation as President, Abdul Kalam worked as a scientist at the Defence Research Organisation (DRDO) and Indian Space Research Organisation (ISRO). After the Atal Bihari Vajpayee government came into power, he played a prominent technical role in Pokhran-II nuclear tests in 1998. The John Abraham starrer Parmanu is based on these tests largely.
From 1992 to 1997 he has worked as a scientific advisor to the defense minister and later he served as the principal scientific adviser from 1999-2001 to the government with Cabinet minister's rank. He played a significant role in the 1998 nuclear weapons tests which established his as a national hero. In 1998, Kalam initiated a nationwide plan called Technology vision 2020 and cataloged this as a road map to transform India from a less-developed to a developed society in 20 years. The plan also focuses on increasing the productivity in agriculture and emphasizing technology as a driving force for economic growth and enlarging access to health care and education
In 2002 National Democratic Alliance(NDA) has nominated Kalam to succeed ongoing President Kocheril Raman Narayanan. Interestingly, in spite, he is a Muslim, NDA known for its Hindutva ideology has nominated him. The opposition Indian National Congress left with no option except to propose his candidacy. He won the elections and was sworn in as India's 11th president in July 2002. During his tenure, he devoted himself to using science and technology to transform India into a developed country. After completing his tenure, he was succeeded by the country's first woman president Pratibha Patil.
Unlike other Presidents, APJ Kalam dedicated his life in education, writing and public service after completing his tenure. With his great efforts, India joined the club of countries which make their own Range Ballistic Missiles(IRBM), when he was the director of the Defence Research and Development Laboratory (DRDO) in Hyderabad. He only dreamt of serving the nation and public and this made the opposition utmost impossible to oppose him while electing President.
He was an Aeronautical engineering graduate from the Madras Institute of Technology. Later on, he joined the Defence Research and Development Organisation(DRDO). He was the project director for SLV-III, which was congenitally designed and produced a satellite launch vehicle at the Indian Space Research Organisation. He rejoined DRDO in1982 and designed a program that resulted in the production of successful missiles.
He wrote several books, which include his autobiography, Wings of Fire(1999). He was awarded two highest honors, the Padma Vibhushan(1990) and the Bharat Ratna(1997)
Every year World Student's Day is celebrated on October 15 on the birth date of former President APJ(Avul Pakir Jainulabdeen) Abdul Kalam. The day is observed on his birth anniversary as Mr. Kalam was a true teacher and dedicated himself to that role. Due to his love for the students, several educational institutions in India celebrate Kalam's birthday as a tribute to him. Significantly, the United Nations declared October 15 will be celebrated as the World Student's Day in 2010.
Abdul Kalam was our 11th President, who offered his services to the nation from 2002 to 2007. He was also referred to as the people's president extensively and is also credited for the military missile systems of India. With his love for teaching, he always tries to motivate students to never give up on your dreams. "Dream, Dream, Dream, Dreams transform into thoughts and thoughts result in action". "If you fail, never give up because FAIL means 'first attempt in learning"' are some of his quotes he quoted while addressing the students.
While presenting the National Awards to teachers, in 2006, he said: "Teachers are the builders of society and the society can be built only when the students are made proficient in their subjects". "Teachers have to provide a vision for life to the students and also inculcate the fundamentals of values which they should practice in years to come", he added.
Kalam suffered a cardiac arrest while delivering a lecture to the students of IIM Shillong on July 27, 2015.