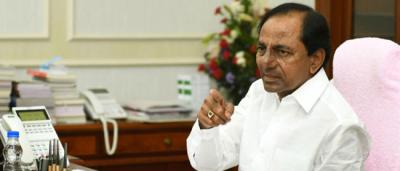 The public has been suffering a lot due to the RTC Employees Strike Call in Telangana. The situation has gone to the extent of extending the Dussehra holidays for Schools and Colleges. At such a time, A Phone Call projecting as that of a Common Man expressing his anguish over the ongoing agitation by contacting the Telangana CMO has created a sensation. Mainstream Media and Social Media had given extensive coverage to this video in circulation.
Telangana Chief Minister's Office clarified video in circulation as 'Common Man Phone Call To Telangana CMO' is fake. 'For a couple of days, Newspapers and Channels kept reporting that Common Man contacted CMO through the helpline. Even such bad propaganda was happening on Social Media as well. A Fake Voice was created to make public believe CMO Officials had spoken to the Common Man,' says CMO.
Chief Minister's Office lodged a complaint with Hyderabad Police Commissioner on the fake audio clip which was presented as the conversation between a Caller and CMO Official. Police Department was instructed to take stringent action against those who created and spread the fake audio clip.
Fake Audio Clip damaged the reputation of the TRS Government with the public assuming it could have happened. Extensive media coverage to the fake tape has only irked KCR & Co.,