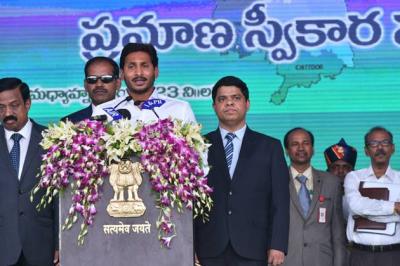 In the inaugural meeting of the Kanti Velugu scheme, held at Anantapur CM Jagan said that he is the grandson of Anantapur District and he will change Anantapur. He explained various measures taken state-wide in terms of health. He announced new schemes for those who are sick. Hev said that under Aarogyasri, two thousand diseases are to be treated. In addition to AP, an agreement has been signed with 150 hospitals in the cities like Chennai, Bangalore and AP people can also get treatment from there, added Jagan.
He also said that a pension of 5 thousand is to be given every month for those who are suffering from thalassemia and paralysis. Every disease beyond 1,000 rs will be under Arogyasri. In the fields of Education, Medical and agriculture there will be phenomenal changes. 108 and 104 ambulance service will work full-fledged said, Jagan.
'Kanti Velugu' program was started by CM Jagan. The program was launched with 650 crores. In three years this scheme will be implemented in six phases. Students will undergo eye examinations in the first two phases. Jagan made it clear that this program will be held from October 10 to 16. Government and private schools will get free eye examinations. Screening, eyeglass distribution, and cataract operation will be carried out for free. From February 1st 3,4,5,6 phases of eye examinations will be done. In four phases eye examinations will be done based on community.
Chief Minister Jagan announced more schemes on the same stage. He has announced that their government will give priority to education, medicine, and agriculture fields. As part of this, he said that the government has announced a pension of Rs 5,000 per month for those suffering from paralysis as well as patients suffering from thalassemia.
The Chief Minister asserted that along with the existing diseases the AP government will treat nearly two thousand diseases under aaROGYASRI. Every disease that goes beyond 1000 rupees will be treated under Aarogyasri. Apart from AP, more than 150 hospitals will be under Aarogyasri in the neighboring states. As a pilot project, this scheme will be started from West Godavari.