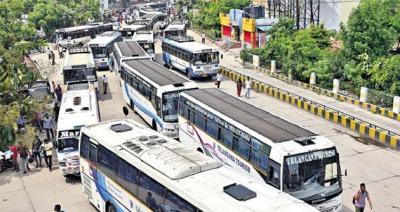 Telangana RTC workers went on strike demanding the merge of RTC in government. The RTC workers have also been demanding hike in the pay and pay the debts. They are very furious over the decisions taken by the government to suppress the strike. As part of the strike, a state bandh will also be called. The decision taken by KCR resulted in a tragedy in the worker's families. A husband on his wife losing her job and a man on losing his job, both lost their lives with a heart attack.
As the government is still in decline, the RTC workers have decided to make the strike even more vigorous. Various political parties and public groups have extended their support to RTC workers for this strike. RTC workers have decided to unite all the sections and hold a strike on a large scale.
RTC Workers are planning to intensify their agitation at all the depots in Telangana state.
Telangana bandh is likely to be called on October 19. RTC JAC has also come to a decision on this. RTC Labor JAC is holding a meeting with the opposition leaders. However, the JAC leaders have announced that they will announce their final decision on the bandh post the meeting.
They are planning to intensify the strike, similarly to the strike they did for the formation of Telangana State. In order to get their demands, they have decided to bend the necks of the government. During the sixth day of the strike, the women workers protested in front of the depots.
After five years, KCR might or might not be in the CM chair. How can he dismiss the workers who sent notices prior to the strike? If the government won't agree to our demands we will come on to the streets with our family members to protest, said RTC workers