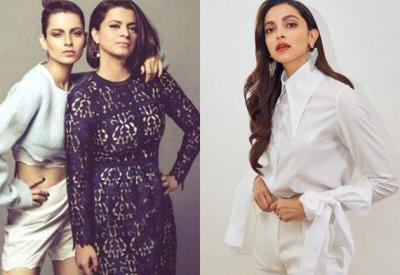 Kangana Ranaut became a star in Bollywood after proving her mettle as an actor and winning multiple National Awards, box office acclaim as well.
But she seems to not let go off the media coverage that unnecessary comments can bring to her and popularity that controversy can gift her on a platter.
Deepika Padukone commented that she likes Ranbir Kapoor's boxers and it was taken as a light-hearted joke even though it doesn't seem as a sane comment in public. She and Ranveer Singh, have been known for being slightly eccentric open and in-private.
But that doesn't make them bad people or people who are trying to gain sympathy by playing medically ill on camera or in real life.
Deepika's depression comments and her open admission gave many women a platform to express that they do have problems. Others were helped by her charitable foundation as well.
Rangoli Chandel who fires bullets for Team Kangana Ranaut, waiting for someone to have a bad day publicly, pounced on this comment by Deepika and started saying that Kangana didn't know how to make a scene out of being depressed and didn't know how to own the media.
She even commented that people who talk about other male's chaddis aka boxers cannot be classy while Kangana is considered like trash.
Well, Rangoli is a victim of acid attack and she does a great job in being PR and Manager of Kangana. Sometimes, it is better of she chooses her battles rather than pouncing on everyone.
Deepika just suggested that she would have loved to see the title as Mental Hai Kya and did not attack on Kangana, personally.