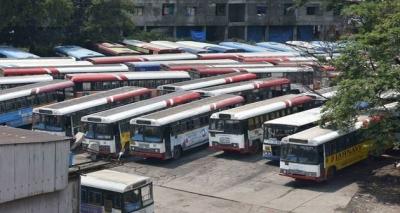 BJP has started plans to gain from the RTC strike. They are trying to impose their plans through Telangana Governor. It has been reported that the BJP party is making strategic moves against KCR. Governor Tamilisai is meeting the family members of RTC and making them also to participate in the strike.
It has also been reported that BJP is making their efforts look like the public is coming to Tamilisai and for the benefit of the public she is reviewing this issue. Till now Governor neither interfered in the issue nor she asked reports from the officers. She might take up this issue soon. If the reports were to be believed, this will be her first issue to be solved as a Governor.
Narasimhan Who served as the governor before Tamilisai was a supporter of KCR. During the time of All People Strike and working under Congress Party he spoke against KCR, but after he became CM he kept mum. To counter this BJP brought Tamilisai into the scene strategically. Looks like the RTC appears to be an unexpected benefit for BJP.
While all the parties are supporting the strike, it's to see interesting what will be BJP's move. Reportedly, BJP is planning to blame KCR in this entire issue. Amidst the strike RTC gets benefit or not BJP is going to benefit for sure. To see who wins in this political game we might have to wait some more days.